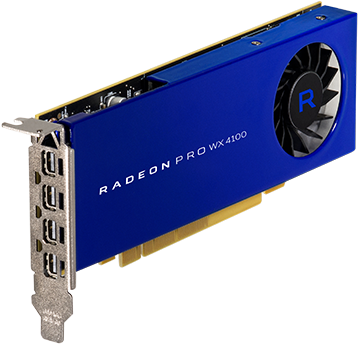 Radeon WX4100 Video Card
4 Displays | DisplayPort, DVI or HDMI | 4G DDR5 | 5K/4K | 3D: Designed for CAD design, engineering, financial and professional industries. Certified for many CAD/CAE applications this powerful video card has the power you need for serious rendering.
Display Capabilities
4

x DisplayPort, HDMI or DVI (with optional adapters)
Max DisplayPort 1.4 Resolution: 5120 x 2880 (5k)
Max DisplayPort 1.2a Resolution: 4096 x 2160 (4k)
Max DisplayPort 1.1 Resolution: 2560 x 1600

To obtain the max resolutions above, monitors must also support that resolution.



4 x MDP (M) to DP (F) adapters included for 4 x DisplayPort monitors.

Up to

4 x DVI

monitors you will need 4 x MDP to DVI active adapters (above).
Drive a single, 5K display, or up to 4x 4K displays (

DP v1.2

or higher).

Up to 4 x 4k

HDMI

outputs @30Hz with optional active adapters above.
Up to 3 x 4k

HDMI

outputs @60Hz with optional active adapters above.
No VGA support for this card.
Specifications
PCI Express 3.0 x16 lane architecture
4G

DDR5 graphics memory




5k

support @ 60Hz (single or dual cable)

1024 Stream Processors

DisplayPort version: 1.4 / HDR Ready

Low power consumption / 50w
DirectX 12, Open GL 4.5, OpenCL 2.0, Vulcan 1.0, Polaris 11
High performance 3D graphics engine
Catalyst Control Center software
Eyefinity support
System Requirements
Available PCIe x16 slot (3.0 for best performance)
Microsoft Windows 7, Windows 10 or Linux (32-bit or 64-bit)
8G of system memory
500w power supply
CD-ROM drive (or Internet access) for software installation


Monitor Requirements (What you will need)
DVI Monitors:

4 x DP to DVI

active

adapters (required) + 4 x DVI cables. You can use the DVI cables that came with your monitors, or add them to your order above.


DisplayPort Monitors:

DP to DP cables. Add to your order above if needed.


HDMI Monitors

: DP to HDMI active adapters (required) + 4 x HDMI cables. You can use your own HDMI cables, or add them to your order above.

If you have any questions, please feel free to give us a call now at
239.254.9206
.
Three year limited product repair/replacement warranty direct from AMD
Featured Products
Cube ITX2
$1,495.00
QSTraveler
$2,295.00
QuadStation 3 i7 Pro