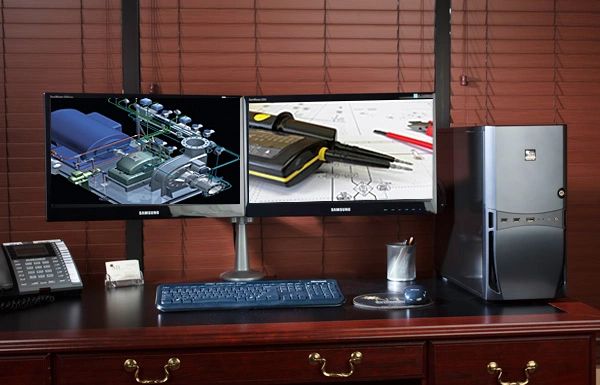 NTI-TX2
(international customers see shipping menu above)
Dual Display Computer System
Base Specs:
Intel processor, Windows 10 or 11 Pro 64 bit, 16G DDR4 mem, 2x 480g solid state drives (1=System/1=Restore), DVDRW, 4k Graphics, 2x HDMI (optional DVI adapter), Built-in WiFi, USB keyboard + mouse, speakers,  FREE login support service, FREE shipping in USA. Dimensions only:  15" x 8" x 18" (HxWxD). (If you want a little more horsepower upgrade to the i7 processor). 
Overview: The NTI-TX2 workstation is a solid 1-2 display computer built in a space saving style case. If you are looking for a basic system but do not want to sacrifice quality, look no further this system has it.  The system supports up to 2 independent 4K displays and your mouse across both screens.
Add 1-2 additional monitors to your cart if needed or use with existing monitor or TV. Small enough to transport between locations.
We designed this system for those looking for a basic PC but want the same quality found in our full sized QuadStation Systems in a low profile design. The NTI-TX2 was born.
Small But Mighty:  Don't let the simplicity fool you! This system is power packed and ready for work out of the box. It is well ventilated and super quiet. The system comes with an i5 processor which is plenty of power to drive up to 2 displays, but feel free to upgrade to the i7 above if you wish.
Video Connections:
2 x HDMI v1.4 (

4K

up to 4096 x 2160) 
Video adapter cables available if needed.
Use with any sized monitor or TV.
High Quality Case
Sound dampening front and sides for a quiet working environment.
Hinged front door helps keep the dust out.
Easily accessible double dust filter in front.
2 large internal cooling fans to keep your components cool.
Easy access USB ports and power button right on top.
Many Uses
A very solid 2 display computer system for home or office.

Video or media appliance to manage devices.

Digital signage for 2 large TVs in your business.

Bloomberg terminal computer.

Tradeshows or special events when you need more than laptop power.

Create your own 'personal backup vault' for home or business vs storing in the cloud.

Video surveillance recording computer.

Gaming console.

Design station.
Ready for Work Out of the Box: The NTI-TX2 is fully tested prior to shipment and ready for work.  When your system arrives it is ready to go out of the box. Nothing to install or register we do all of that for you in production. Just install your personal software, plug everything in and you are ready to go.
Warranty and Support
FREE 1yr hardware warranty on all components.
FREE Remote support service via our web based Tech Support Console

100% US Based support (not outsourced)
FREE SHIPPING on everything! Anywhere in the continental US. International customers please see Shipping menu above for details. What are you waiting for? Order now!
(Computer case design shown may vary slightly based on inventory availability)


Featured Products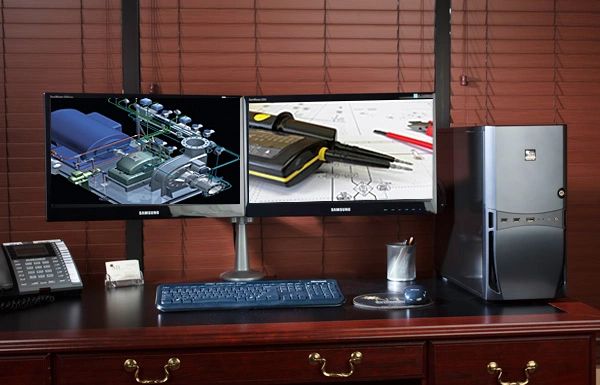 NTI-TX2
$1,395.00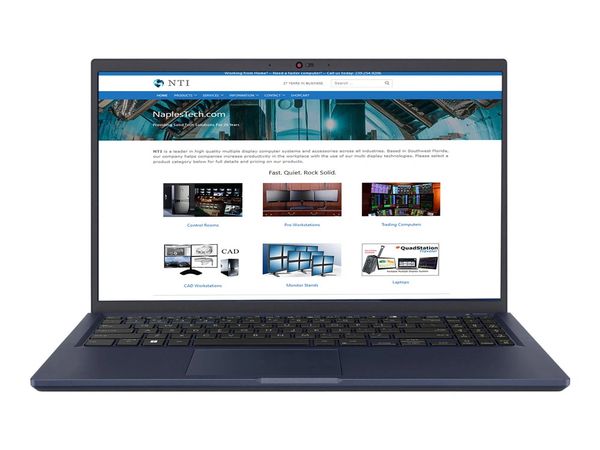 QSTraveler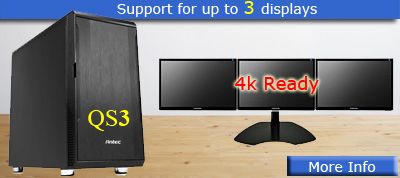 QuadStation 3 i7 Pro