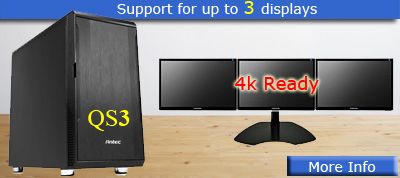 QuadStation 3 i7 Pro
(international customers see shipping menu above)
Multi Monitor Computer with 3 Displays
Base Specs: Intel Processor, choice of Windows 11 64bit Pro, 16G DDR4 mem, 2 x 960g solid state drives (1=System / 1=Restore), DVDRW, USB Keyboard-Mouse. Graphics: DisplayPort/HDMI/DVI, 3 year warranty, FREE login support service, FREE shipping. Monitors and mounts are sold separately.
The system as configured has plenty of power to handle this many screens, but feel free to add upgrades if you wish.
Overview: The QuadStation 3-i7 Professional series workstation is a powerful 3 display computer. This system is designed to increase productivity at work and supports up to 3 independent displays. Your mouse across all monitors allowing you to work with several applications open at once. Rotate monitors vertically when an optional monitor mount is used.
Video Connections as System is Configured:
1 x DisplayPort, 2x HDMI, for up to 3 video outputs.


Option to upgrade video card to

3 x DisplayPort



Your monitor inputs determine what type of connections you need. If you have questions stay on this page and call us now at 239.254.9206.
Ready for Work Out of the Box

: QuadStations are built for serious speed and fully tested prior to shipment. When your system arrives it is ready to go out of the box. Nothing to install or register we do all of that for you in production. Just install your business software, plug everything in and you are ready for work.
High Quality Case
Sound dampening front and sides for a quiet working environment.
Front door helps keep the dust out.
Easily accessible double dust filter in front.
2 large internal cooling fans to keep your components cool.
FREE SHIPPING on everything! Anywhere in the continental US. International customers please see Shipping menu above for details.
(Computer case design shown may vary slightly based on inventory availability)


Featured Products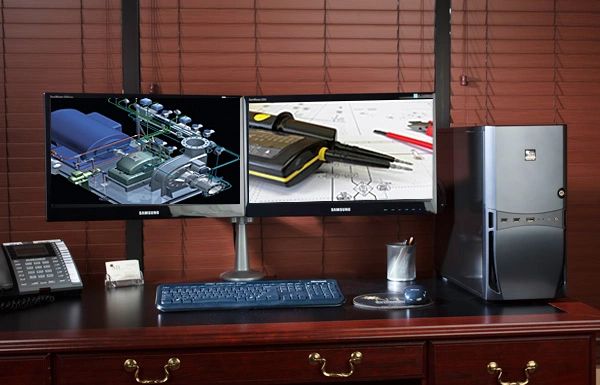 NTI-TX2
$1,395.00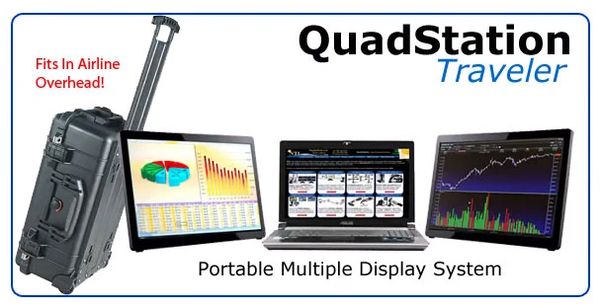 QSTraveler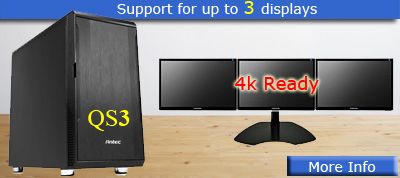 QuadStation 3 i7 Pro