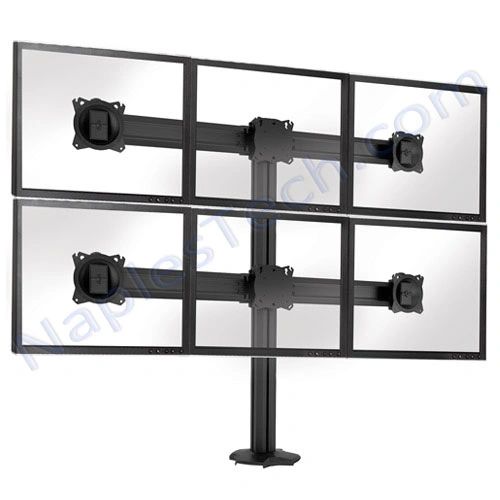 K3320G
Monitor Stand to Mount 6 Displays
The K3320G is a high quality monitor stand for mounting 6 displays in a 3 wide by 2 high configuration. This sturdy monitor mount creates a very efficient and productive multiple monitor environment.
The K3320G features vertical and horizontal adjustability as well as 12 degree individual angle adjustments for each monitor. Support for up to 6 x 27" or up to 4 x 30" displays with the unique telescoping arms. It also has independent vertical adjustment if you have different size monitors.
This mount has a secure bolt down style base. An example of what this mount would look like with monitors mounted is shown above (monitors sold separately). One of key features of this mount is the telescoping arms providing a wide range of mounting options from 17" up to 30" displays.
Specifications
Color:
Black
Desktop Thickness Range:
0.5" - 5"
Grommet Hole Size Range:
0.38" - 3.5"
Mounting Method:
Grommet Mount (bolt down)
VESA Compatibility:
75mm, 100mm
Number of Monitors:
Up To 6x to 27" OR 4x 30" Displays
Orientation:
Landscape & Portrait
Screen Array Configuration:
3 x 2
Shipping Weight:
36.00

lbs

Individual VESA Head Tilt:
+/- 12 degrees. Center head 10 degrees.
Overall Dimensions:
38" (h) x 55" (w arms extended) x 15" (d arms forward)
Typical Screen Sizes:
3x2: Up to 27"-diag.; 2x2: Up to 30"-diag.
Weight Capacity:
15 lb per monitor
Warranty:
10 Years

Installation
Product comes mostly pre-assembled, so installation is fast & easy.
Drill 1 x 3/8" hole to mount the bolt down style base, the vertical pole then bolts to the base.
Horizontal bars come preassembled affixed to the vertical pole.
Teardrop hole pattern simplifies monitor mounting.
VESA 75 x 75 mm and 100 x 100 mm compatible.
Tool-free, integrated cable management.
Monitor mounting and bolt down base hardware is included
Technical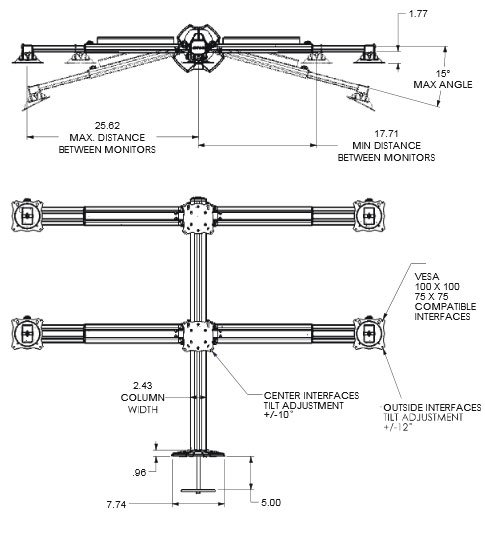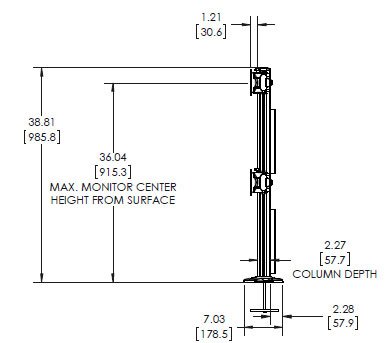 Featured Products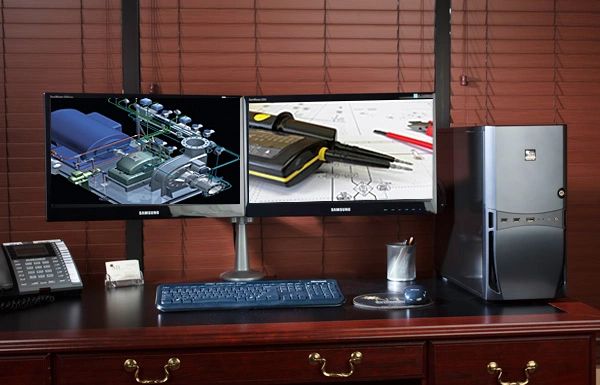 NTI-TX2
$1,395.00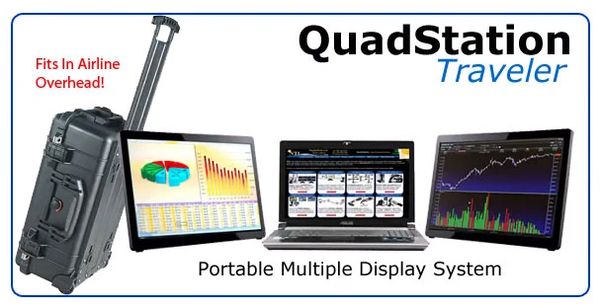 QSTraveler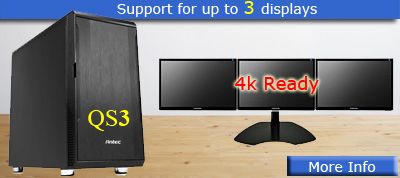 QuadStation 3 i7 Pro