K4610G
Monitor Stand to Mount 6 Displays
The K4610G is a professional grade monitor stand for mounting 6 displays in a 6 wide by 1 high configuration. This sturdy monitor mount creates a very efficient and productive multiple monitor environment.
This monitor mount provides an aesthetic & easily adjustable solution for re-positioning the entire bank of 6 screens. Simply grab the handles and pull or push the entire array at once with a range of up to 12" forward or back. 
The unique design makes it perfect for desks with multiple users who may have different viewing distance preferences. This includes trading desks, call centers, security desks, IT, health care, control rooms and more.
Specifications
Color:
Black
Mounting Method:
2 x Bolt Down Bases. 7.7" wide.
VESA Compatibility:
75 x 75mm, 100 x 100mm
Number of Monitors Supported:
Up To 6 x 24" Displays
Orientation:
Landscape & Portrait
Screen Array Configuration:
1(h) x 6(w)
Shipping Weight:
69

 lbs

Individual VESA Head Tilt:
+/- 12 degrees
Vertical Pole Height:
13.3" plus swingarm
Weight Capacity:
15 lb per monitor
Overall Dimensions (extended):
20" (h) x 109.1" (w) x 44" (d) extended
Center of Display To Desk:
11.47" to 18.22"
Desktop Thickness Range"
1" to 4.94"
Minimum Depth"
32.1"
Maximum Depth (fully extended):
44.1" (32.1 + 12" extension)
Warranty:
10 Years.
Installation  
Product comes mostly pre-assembled, so installation is fast & easy.
Drill 2 x 3/8" holes to mount the bolt down style bases, the vertical poles bolt to the bases.
Teardrop hole pattern simplifies monitor mounting.
VESA 75 x 75 mm and 100 x 100 mm compatible.
Tool-free, integrated cable management.
Monitor mounting and bolt down base hardware is included
Technical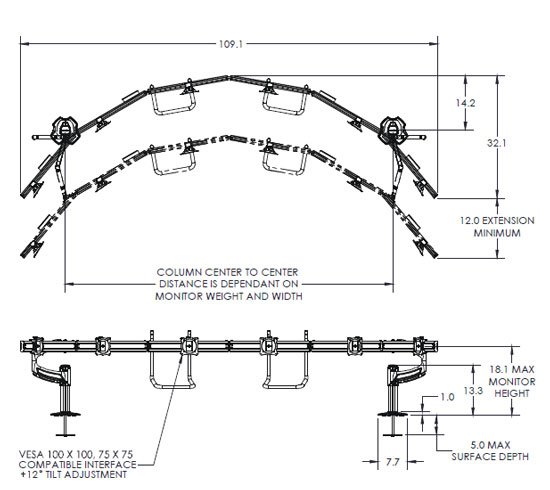 Featured Products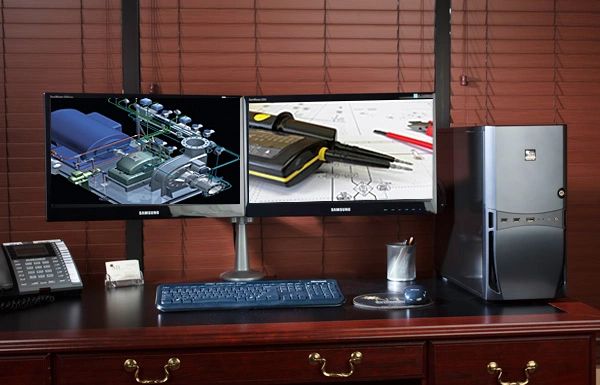 NTI-TX2
$1,395.00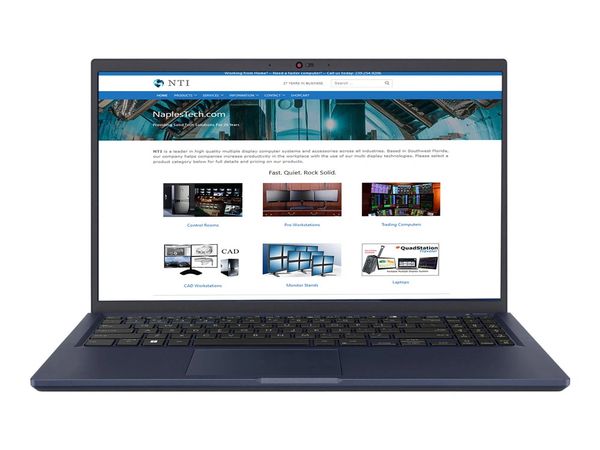 QSTraveler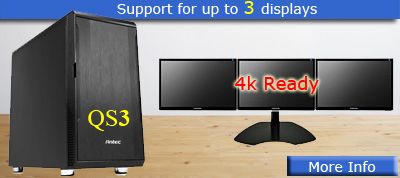 QuadStation 3 i7 Pro