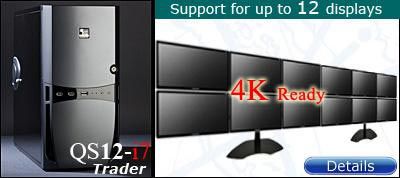 QuadStation 12 i7 Trader
(international customers see shipping menu above)
Trading Computer with 12 Displays
Base Specs: Intel 6/12 Core i7 Processor, Windows 10 64bit Pro, 32G DDR4 mem, 480g solid state drive, 500g restore drive, DVDRW, USB KBM, 3 year warranty, FREE login support service, FREE shipping. Monitors and mounts are sold separately. Packed with plenty of power for any task as configured but feel free to upgrade components if you wish.
Overview:  The QuadStation 12-i7 is a very powerful and solid 12 screen computer for trading. The QS12-i7 was designed for traders who appreciate supreme quality and want the best trading hardware available to date.
The QuadStation 12 comes standard with Intel's fastest i7 Extreme Series processor, Solid State hard drive and plenty of memory so the power will be there when you need it. Once you begin using a QuadStation system for trading, you will see the performance advantages right away.
Video Connections:
12 x DisplayPort or DVI

12 x 10ft DisplayPort or DVI cables included (your choice based on monitors)

Optional: DPort to HDMI adapters
Ready for Work Out of the Box: QuadStations are built for serious speed and fully tested prior to shipment. When your system arrives it is ready to go out of the box. Nothing to install or register we do all of that for you in production. Just load your trading platform and you are ready to go.
FREE SHIPPING on everything! Anywhere in the continental US. International customers please contact us for a shipping quote.
Featured Products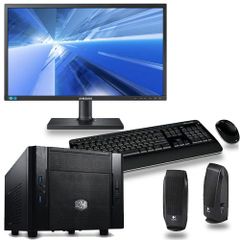 Cube ITX2
$1,395.00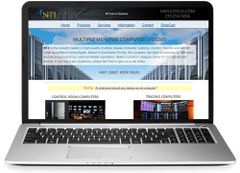 QSTraveler
$2,295.00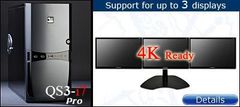 QuadStation 3 i7 Pro