QuadStation 4 i7 Pro

(international customers see shipping menu above)
Base Specs: Intel 4/8 Core i7 Processor, Windows 10 64bit Pro, 16G DDR4 mem, 240g solid state drive, 500g restore drive, 4G video memory, DVDRW, USB KBM, 3 year warranty, FREE login support service, FREE shipping. Monitors and mounts are sold separately.
Overview: The QuadStation 4-i7 Professional series workstation is a powerful 4 display computer with Windows 7 designed for businesses. The system supports up to 4 independent displays and your mouse across all monitors allowing you to work with several applications open at once.
Video Connections:
4 x DisplayPort or DVI
4 x 10ft DisplayPort or DVI cables included (your choice based on your monitors)


Optional: 4 x DisplayPort to HDMI 4k active adapters
Ready for Work Out of the Box: QuadStations are built for serious speed and fully tested prior to shipment. When your system arrives it is ready to go out of the box. Nothing to install or register we do all of that for you in production. Just install your business software, plug everything in and you are ready for work.
If you are using this system for a Control Room environment, we can build the system in a rackmount chassis if you wish. See this option during checkout.

FREE SHIPPING on everything! Anywhere in the continental US. International customers please see Shipping menu above for details.
Featured Products
Cube ITX2
$1,495.00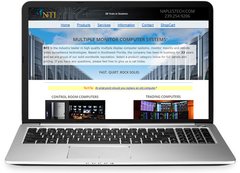 QSTraveler
$2,295.00
QuadStation 3 i7 Pro